Hello and greetings! My name is Graham Fredeen and I am a bladesmith and blacksmith. I make hand-forged, custom blades. I make pretty much any sort of blade that is out there, from hunting knives, fighting knives, utility knives, and have delved somewhat into swords (mostly European, but I have also done some asain blades as well), however due to limited shopt time, swords have been put on hold for awhile.
I am located in Colorado Springs, Colorado and have been making blades for around 6 years now. I started out making simple stock-removal knives and a few stock removal swords for my own uses. Nothing very impressive in my opinion, but they were a decent little start. Around five years ago I constructed a gas forge and have been forging blades ever since. I am a member of the American Bladesmith Society and hope to test for a Journeyman Smith rating in the next few years, and hopefully achieve the rank of Mastersmith some day. I am also a member of the Professional Knifemakers Association.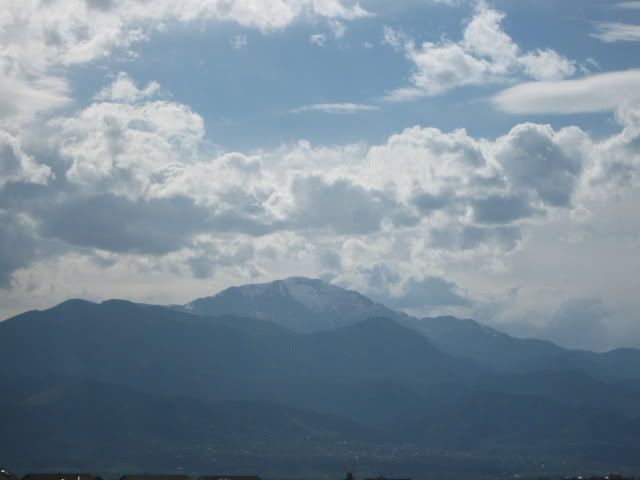 Being a bladesmith means more than just making knives and blades. For me it means the constant pursuit of perfection, a lifestyle, a craft to be devoted to and carry on its deeply founded traditions and pass them on to others. I hold myself and my work to the highest degree, I do not sell or even give away a blade I did not think would perform to my high standards. This is why I personally test each of the blades I make, and every so often I make blades specifically to test to destruction. This ensures that I maintain my quality, points out any potential problem areas, and helps me to find new ways to constantly improve my work. That is my ultimate goal in making a blade, to come as close to perfection as possible, and should one fall short, continue learning and finding ways to come one step closer.
Each blade I make is made by hand. I do not use any type of pre-manufactured blade blanks, furniture or parts. I do not outsource any of my work (no laser or waterjet cutting, etc). The only exception to this rule would be a special customer request for a special sheath or engraving (something I hope to one day add to my list of skills). I start with the raw materials and forge, grind, and shape each component by hand. I hand-forge each blade I make, I weld and make my own pattern-welded/damascus steel and I heat treat each of my own blades. I firmly believe in sole authorship and am the sole author of each piece I make, from the pattern welded steel, down to the leatherwork on the sheath. Additionally, by doing each step by hand, I can ensure the quality of my blades and have the satisfaction that the finished product was made the right way, by my hand, and will perform to my high standards.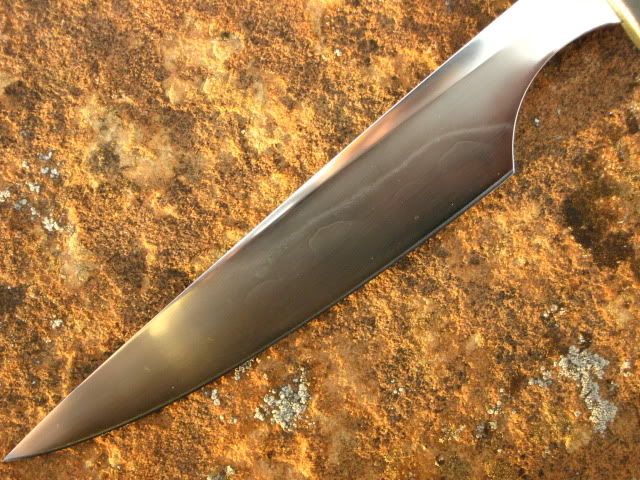 My blades are made only from high-quality, blade grade high-carbon steels. I do not use stainless steel in my blades. This is done for a few reasons: Firstly, I am not a stock removal knife maker, I am a bladesmith. This means I forge my blades and shape them primarily with a hammer and anvil, rather than taking a piece of steel barstock and cutting and grinding a knife blade out of it. The vast majority of stainless steels are not suitable for forging and can only be turned into a blade through stock removal, so its not something I have ever really wanted to get into. Secondly, most stainless steel falls short of the performance capabilities of a good high carbon blade steel. Stainless steel can produce a good, serviceable blade with proper heat treatment (which requires very specific temperature and time control only capable of being produced by a high tech system and often requires the heat treatment to be outsourced), but even then, stainless does have its performance limitations. It is hard to beat a good high-carbon steel blade for performance and durability, which are my main concerns.
I only use the finest materials available in the production of my blades, from the blade steel, to the materials for the guards and other furniture, to the wood/grip materials.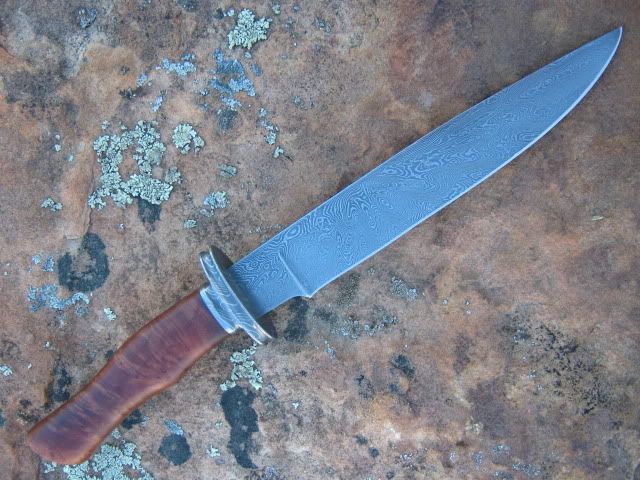 A quality blade is my number one priority and is why I make each blade from start to fit to finish. I warranty each blade I make for my lifetime (or at least as long as I am able to make blades). Should one of my blades ever break under normal, reasonable use, I will gladly replace it. This, of course, excludes abuse, improper care, and improper use, as well as the normal "wear and tear" problems a blade faces such as edge dulling, or damage from use. Additionally I am not responsible for blade finish issues like rusting, corrosion, and abrasions from use. These isses are the customer's responsibility and are the result of how the blade was maintanined. Should finish issues, edge dulling, or damage occur, I would be happy to fix these problems for a small charge, but I will not warranty these types of problems as they are not defects in the manufacture of the blade.
Additionally, you must be at least 18 years old to purchase one of my blades. You are responsible for knowing the laws regarding knife possession, ownership and use in your state (or country). I can not be held responsible for any legal issues that arise as a result of purchasing one of my blades, nor can any responsibility be placed on me for injury, damage of property, or death of an individual(s) as a result of the use or ownership of one of my blades.
If you have any further questions about Fredeen Blades or my processes, feel free to contact me.